Viral Image Blast
Go viral and get amazing exposure for your website or app!
Everyone loves a great laugh from an Internet Meme, amazing, inspirational, unique, funny or viral images. Here's your chance to reach our fan base of over 430,000 people!
We will feature awesome images with your branding on our Blog (Sample Post) and Facebook Pages (we have 3!) with links pointing to your website. You can supply us with images or we can use ours. We make sure it's highly relevant and engaging for our fans!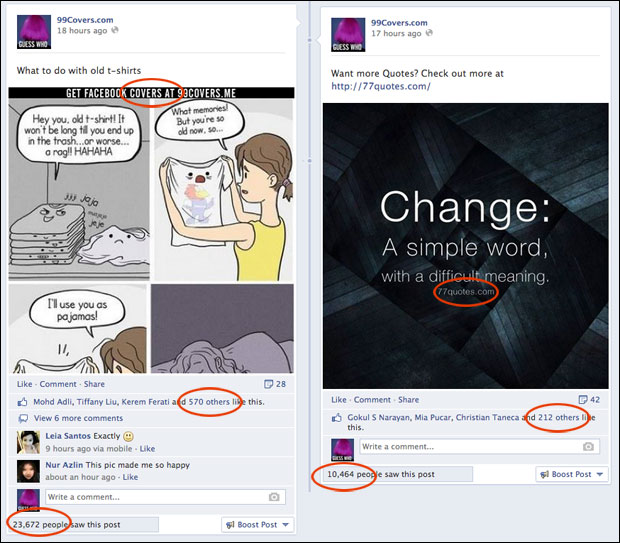 Viral Blast Pricing
$50 – 10 viral images – 100,000 views*
$100 – 23 viral images – 230,000 views
$200 – 50 viral images – 500,000 views
$500 – 150 viral images – 1,500,000 views
* Based on 2 week average as at 19-Sep-2013
Next steps after making payment..
If you are submitting your own images..

Adjust your image dimensions to be ideally 404 pixels in width and height.
Use this image branding PSD template and place it at the top of your image: Download PSD (zip file)
Send your images to [email protected] (please use a file sharing service like dropbox.com when sending over 23 images)

If you are NOT submitting your own images, please email us at [email protected] for further details
We reserve the right to refuse any advertiser and/or advertiser submitted images we deem irrelevant, inappropriate, etc. for our fan base.
We reserve the right to request design and/or watermark modifications if we deem the image to not fit our design guidelines. Ideal image size is 404 x 404 pixels.
After making payment, please send your images, image captions and watermark details to

[email protected]